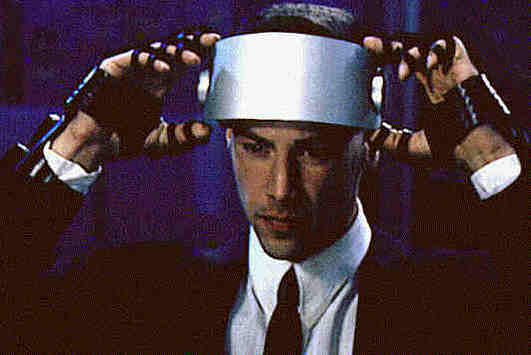 "A thousand megabytes equals a gigabyte, a thousand gigabytes equals a terabyte, a billion gigabytes equals an exabyte… and a friggabyte is the size of a file that takes far too long to transfer over the web." – Anonymous
By Keith Newman

In William Gibson's futuristic short story and the subsequent movie Johnny Mnemonic, set in 2021, information has become more valuable than gold and half the world's population suffer from an epidemic known as Nerve Attenuation Syndrome (NAS) or information overload.

While high-speed networks connect everything, nothing is secure – there are viruses, hackers and spies everywhere. Johnny works as a data courier moving important information uploaded to a 320Gb chip implanted in his brain. In many ways Gibson's cyber story has been prophetic, although mere gigabytes of data in comparison with the terabytes or even exabytes being spoken about in the 21st century date the story. In the decade or so since the movie was released the social consequences of technology's tidal wave are only just beginning to be understood.
One single issue of the Weekend Herald contains more information than the average person was subjected to in their entire life back in the 17th century. Add to that television, radio, billboards, faxes, cellphone, txt messages, music and movie downloads and the abundance of data available through that modern Alexandrian library known as the Internet and it's clear we're being swamped.
The explosive growth of digital content generated by next-generation consumer devices, including digital video and still cameras, DVD and CD writers and MP3 players, adds a new shine to the previously mundane storage market. Storage capacity on laptops, PCs, DVD recorders, flash memory cards, USB drives and portable multimedia players continue to grow exponentially while prices dive.
Research company IDC reckons 161 billion gigabytes or 161 exabytes of data was generated in 2006. In its report The Expanding Digital Universe: A Forecast of Worldwide Information Growth Through 2010, released in March 2007, it attempted to account for all the digital documents, photos, videos, emails, web pages, instant messages, phone calls and other digital content cascading around the Internet, assuming an average digital file would be replicated four times.
The largest category of digital data was email, including spam, and other person-to-person communications which accounted for six exabytes or six billion gigabytes of data in 2006. IDC estimated there were one billion devices capable of capturing digital images in 2006. Approximately 150 billion images were taken with digital cameras, and another 100 billion with cell phones. YouTube, hosts 100 million video streams a day and experts say more than a billion songs a day are shared over the Internet in MP3 format.
The two most powerful data trends were the number of Internet users and the speed with which they are connecting. Between 1996 and 2006, the number of web users grew from a 48 million to 1.1 billion worldwide. IDC predicts that over the next four years, another 500 million people will come online.
IDC numbers escalated through the presumption that each digital file would be reproduced at least four times. If it only tracked original data, its result would have been a more comprehensible 40 exabytes; the equivalent of four stacks of books that each reached from the Earth to the sun or 2.4 million times the information in all the books ever written. (

2010 data overload update at Home Technology Zeros, ones and zetabytes: Content exceeding capacity)
The previous best estimate of the world's digital data was made by researchers at the University of California, Berkeley, who claimed the globe's information production was 5 exabytes in 2003. One of the sponsors of that report, data-storage company EMC, also commissioned IDC's report. The Berkeley researchers included non-electronic information, such as analog radio broadcasts and printed office memos, and tallied how much space that would consume if digitized, and tallied original data only.

IDC estimates that by 2010, about 70 percent of the world's digital data will be created by individuals. And while it estimates the world had 185 exabytes of storage capacity available in 2006 that would grow to 601 exabytes in 2010. However the amount of data being generated was expected to jump from 161 exabytes in 2006, based on everything being replicated four times, to 988 exabytes (closing in on 1 zettabyte) in 2010. Fortunately, storage space continues to get more capable and more affordable. Fortunately, not all digital data lasts very long. Spam for example pretty soon finds itself in the virtual waste bin and most cellphone calls aren't recorded.
For corporations, information is growing from such sources such as surveillance cameras and regulations requiring them to store business records many years. For example the financial market can be seven years, medical records in Europe have to be kept for at least 70 years, and with lifelong learning student records must be kept for the life of the student. And its not just database files and financial transactions that need managing and backing up, every conceivable file type from e-mail, spreadsheets and Word documents to video, audio, X-rays and film files are being stored and backed up.
Call centres are also under pressure to retain greater amounts of information including audio files. And of course in government circles births, deaths, marriages, census, statistics and land title information needs to be kept forever. "It is no longer practical to go down to the bottom of the warehouse and dig out a document, you need to be able to access information on-line in a couple of minutes. It's all about management, indexing and storage and keeping multiple versions of the same document including back-up, in synch," says IDC Asia Pacific storage research manager Graham Penn.
Frederick Kohun, associate dean of the School of Communications and Information Systems at Robert Morris College in Illinois, says that the PC and the Internet, have made people dysfunctional. "We've got too much information and not enough tools to sort through it…We can't process it all"
Back in the 1950s most information was stored in printed form, today print makes up less than .003 percent of the total stored according to students at Berkley University who conducted a survey in 2000 on how much information is in the world. The survey suggests print, film, optical, and magnetic content is growing at the rate of 1.5 billion gigabytes a year – that's the equivalent of 250Mb per person.

The largest percentage of stored information is digital and its is doubling annually. In 2000 about 610 billion emails were sent, the web contained about 21 terabytes of static HTML pages – both are growing 100 per cent annually. Usenet newsgroups generate more than three times the number of web pages (see updated figures below).
In March 2002 leading lawyers told the Government that proposed health and safety legislation, which includes stress as a workplace hazard, will open the way for increased litigation. So far no-one's mentioned information overload or techno-stress but you can guarantee it'll soon become a major issue.
Technostress is a very real 21st century disease of adaptation caused by an inability to cope with ever changing technology and the corresponding deluge of data. The symptoms are mental fatigue, sore wrists, blurry vision, headaches, aching back or neck and relentless physical tiredness. In the UK thousands of workers are seeking treatment for symptoms similar to psychiatric disorders, partly because of the extra stress technology has bought to the workplace.
In the US it's estimated the average worker spends more than half the day processing documents. About one-third of business managers suffer stress from 'information fatigue syndrome', which results in difficulty making decisions and ultimately overflows into personal lives including relationships and the bedroom.
Information can be addictive – some people can never get enough so decisions are never made in a timely fashion - there's always a nagging uncertainty that just a little more research might make the difference.

In our efforts to tame the tidal wave we are becoming overwhelmed by irrelevance, preferring quantity to quality, insatiably pursuing information rather than the satisfaction of turning it into knowledge or wisdom.

It's time to be empowered by information not overpowered by. Claim your life back and put technology in its place as a tool not a taskmaster. Spend one day a week tidying up your desk and desktop, file for 'future reference' and trash the rest. Deal with email messages immediately: respond or remove. 'I'll get around to it' probably means you won't. Getting your information in formation means you'll be able to find what you need when you need it.
When we're stressed negativity creeps in. Instead of enjoying the challenges presented to us we begin to resent every new imposition. When a computer burns out you simply replace a part or upgrade the software, with humans the damage from workplace stress can be lifelong.

The danger lies in ignoring the areas of our lives that make us who we are – the physical, cultural and spiritual aspects that get lost get lost when we live in the sedentary two-dimensional world of cyberspace.
Delegate, take short breaks, exercise, laugh more, nurture your spiritual life, put the spark back in your social scene, find or rediscover romance. Unless we balance our lives we run the risk of freezing up, like a PC with limited memory and too many applications open.
Email: wordman@wordworx.co.nz
Web: www.wordworx.co.nz