"Photographers can grow their collection of lenses to better suit wide angle, portrait or landscape work, macro to get down to insect level or ultra zoom for detail in the distance."
A new category of camera is finding a niche in the yawning gap between compact point-and-click models for the hobbyist and bulkier SLR systems for the enthusiast and professional.
Mirrorless interchangeable lens cameras (MILC) are aimed at compact users wanting to step up to the performance and image quality of more light-aware system cameras.

They challenge the traditional bulk and complexity of 35mm digital SLR (single lens reflex) cameras. The removal of the mirrors – seen as an unnecessary mechanical hangover from the past – makes way for innovations that allow faster response and instant focus.
This also makes way for the compact size camera bodies to accommodate interchangeable lenses; some have standardised fittings across brands and are backwardly compatible with earlier models.
Photographers can grow their collection of lenses to better suit wide angle, portrait or landscape work, macro to get down to insect level or ultra zoom for detail in the distance.
Twin lens preferred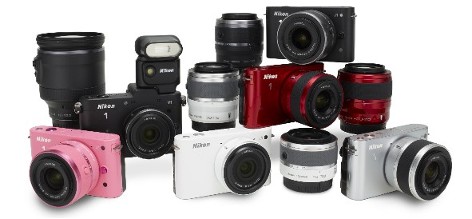 Single lens MILC prices hover between $600 - $1200 with wide angle and telephoto twin lens kits likely to be in strongest demand.

Globally mirrorless shipments reached 2.1 million units in 2010 accounting for 31 percent of all interchangeable lens models sold in Japan, but only 10 percent in the US, according to research firm IDC.

While IDC remains coy about 2011 sales it says momentum depends heavily on who gets into the game and a sweet point for pricing. All eyes are on what SLR market leader Canon delivers after many months of speculation.
Leica, Epson, Olympus, Panasonic, Samsung, Pentax and Sony all have product in the market and the recent entry of number two SLR maker Nikon added further credibility.
Ken Newell, Nikon product manager with distributor T.A. Macalister, says Nikon rebuilt its Nikon 1 from the ground up and the unique CCD sensor more than makes up for the 10Mpixel specification.

One feature that differentiates Nikon is the Smart Photo Selector system which records 12 frames before you fully depress the shutter button and another seven after you have taken your shot.
Clever comparison

"It compares those 19 frames with the one you just shot, looks at blurring and people with their eyes closed, then serves up another four alternative images to choose from, either on camera or later on your computer," says Newell.
He claims the Nikons have "processing power to burn", and can capture 8Mpixel still frames while shooting 1080i HD video at 60 frames per second.

Simon Millidge, director of Olympus distributor H.E. Perry, says the new mirrorless compacts help burst the megapixel myth. "While most entry level compacts are 14Mpixels the chips and sensors are so small they're restricted in their ability to read the light."
He says the new trio of 12.3Mpixels Olympus PEN cameras have CCD image sensors 10 times larger than compact cameras, delivering bigger pixels in a more dynamic range.
Image stabilising is achieved by placing the CCD chip on a gyro to ensure smooth still and video images. And says Millidge, the auto focus is blindingly fast. "Point it at something and it's immediately focussed."
The cameras shoot 1980 x 1080 high definition (HD) video and use a pixel binning technique which "creates three lines of information before the sensor selects the best and bins the rest."

The autofocus motor is near silent, eliminating interference, and Olympus' long history in recording equipment ensures the best stereo soundtrack on video.
While compact cameras are now more affordable than ever and innovation continues in the digital SLR market, mirrorless looks set to capture ground from both.