.
"
Vodafone says 66
percent
of its customers use smartphones and by 2013 they're likely to overtake PCs as the preferred internet access device."
Smartphones will be the dominant communications device for New Zealanders over the next few years as they become more affordable and embrace most of our digital lifestyle needs.
Sales of smartphones have almost doubled year on year according to research group IDC, with falling prices encouraging consumers to upgrade from standard phones or trade up for more features.

Carriers are offering further incentive with heavily discounted handsets in exchange for contracts although the battleground is now moving from specific hardware to operating systems, software and services.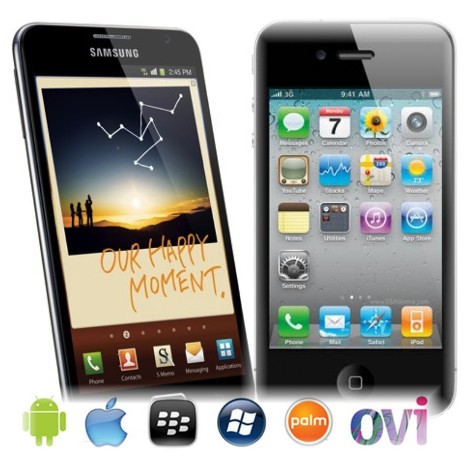 Beyond features like browsing, GPS, camera, big storage, touch and display quality, customers want ease of integration with other devices and screeds of applications (apps) to download.

Australian-based analyst Telsyte, claims smartphones will be the primary mobile device for New Zealanders by 2015, with uptake more than doubling to around 90 percent.

Research director Foad Fadaghi believes Apple's iPhone will retain leadership until around 2014, with Android devices from HTC, Samsung, Sony Ericsson, Motorola, Huawei and others continuing to grow their market share.
He says Nokia is a dark horse adopting Windows 7 and while Blackberry sales are slowing, it will retain a niche.

Raising the bar

Vodafone New Zealand confirms smartphone use more than doubled the traffic on its network in the year to June 2011.

It says 66 percent of its customers use smartphones and by 2013 they're likely to overtake PCs as the preferred internet access device. Around 50 percent of mobile traffic today comes from Facebook.

In the September 2011 quarter Samsung became the world's top smartphone maker with sales rocketing 44 percent to 27.8 million units while Apple's iPhone sales dropped by 16 percent to 17.1 million.

Samsung is a relative newcomer but already has 23.8 percent market share with its Android powered Galaxy line of products, the latest of which is the Galaxy Note mobile device.

However it would be misleading to suggest Apple's smartphone fortunes are fading — it has been the trendsetter since it first launched the touchscreen iPhone in 2007. The dip in sales was simply the market anticipating its new iPhone 4S, which sold a record four million units in the US in its first three days.
OS face off

Litigation about who owns what, with Microsoft and Apple challenging certain of the open Android patents, has raised eyebrows at HTC and Samsung. Meanwhile Google promised to "supercharge the Android ecosystem" shortly after it agreed to pay $US12.5 billion for mobile phone pioneer Motorola Mobility.
With so much investment developing the iPhone, Android and Microsoft mobile operating systems, analysts have been outdoing each other trying to guess where it's all heading.
To date Apple's iPhone and Android phones make up about half of the smartphone market. IDC expects Android to double its share to 40 percent by the end of this year and Apple's iOS to grow five points to around 20 percent.
The market is increasingly driven by the availability of clever downloadable applications; Windows and Android currently have 300,000 apps each while Apple has 500,000.
A wide selection of leading edge smartphones are in New Zealand stores for the Christmas rush. Among them the 16Gb version of Apple's iPhone 4S selling for around $1000 with HD video recording, a new camera and Siri, the voice activated intelligent assistant.

Samsung's latest offering is the 1.4GHz Omnia W running the new Microsoft's new Mango operating system and featuring People Hub technology, optimised for social media. And 2degrees has launching the first Maori language smartphone, called Te Reo. The Ideos X3 reflects the Maori investment in 2degrees by Hautaki Trust.