"Advances in technology and changing media habits mean less moving parts — the spinning platter hard drive and the CD/DVD are out and solid state internal and removable disks are in."
The portable computing market, pushed along by the growing influence of the tablet in all its shapes and forms has spawned a range of lighter, sleeker hybrid devices and PC replacements.
As the digital revolution matures there's a growing desire to get rid of anything that moves, compress the space where mechanical devices once held sway, and deliver smaller, smarter, faster computing devices.
Intel, which makes 80 percent of the world's microprocessors and its main competitor Advanced Micro Devices (AMD), are continually adapting to produce smaller better performing chipsets that drain less battery power in mobile devices, including smart phones.
While the tablet is still clearly marking out a growing niche in the world of multimedia mobility, where social networking is king and high definition viewing is paramount, a new notebook category is claiming its own territory.

Intel is currently doing its best to evolve the notebook into "an ultra simple, ultra thin, ultra-versatile" internet device, logically enough called the ultrabook, which marries the performance and capabilities of notebooks with tablet like features.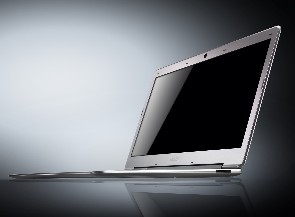 Ultrabook evangelists

Intel expects 40 percent of consumer laptops to be in the Ultrabook category by the end of 2012 and anticipates the whole market will quickly convert to these exceptionally thin, sleek, fast and robust systems.
Product with processing power from rival chipmaker AMD is expecting to begin rolling out in early in 2012.
The reason the ultra 13-20mm thick format and 13–15.6 inch screen can slim down so graciously has a lot to do with what's been left out.

Advances in technology and changing media habits mean less moving parts — the spinning platter hard drive and the CD/DVD are out and solid state internal and removable disks are in.
Dick Smith marketing services manager Francois Smith, suggests fewer people are using CDs and no longer need an optical CD drive. The SD card and the USB slot are sufficient to transfer content and plug in external devices.
The ultrabook format starts almost instantly and because there's no spin up time for the hard disk there's less drain on power — battery life is typically 6-7 hours.
These notebooks are typically designer sculpted items with brushed stainless steel finishes or streamlined curves. Most use Intel's second generation Core processor, will wake up in seconds and use smartphone style touch pads.

Ultrabooks deliver the features you would expect from a mid to high end laptop, with solid state disks offering anywhere between 128Gb - 320Gb storage, and prices between $1500 - $2200.

All the major players have either released or plan to release product in this new category including HP, Acer, Samsung, Toshiba, Lenovo, Sony, Dell and Asus.

The HP Folio Ultrabook entry is barely 2cm thick, weighs in at 1.5kilos, has second generation Intel Core processors with 128Gb solid state storage. It features a 13.3 inch backlit HD screen and backlit keyboard, rapid start and resume technology, advanced Imagepad multi-touch gesture support and HD webcam.
Apple which already claims to be competing with its Macbook Air 13inch is rumoured to be working an ultrathin 15 inch Macbook Air.
Tablet gaining ground

Meanwhile the tablet computer has rapidly carved out a lucrative niche among the mobile multimedia and social network generation.
During 2011 tablets sold about 50 million units worldwide with analysts expecting that to double in 2012, although that doesn't yet rate alongside IDC's estimate of 362 million PC sales in 2011.
Tablet take up remains a source of concern for traditional computer makers; about a third of the tablets sold over the next two years are likely to be at the expense of laptops.
It's a buyer's market with branded solidly configured laptops selling for $600 - $1000 and netbooks, the last attempt to at improving on the lightweight notebook, now selling for $300 - $500. With uber-thin ultrabooks and even hybrid e-books now competing its game on.
Many PC makers including Hewlett-Packard, Dell and Lenovo have added tablet style products to their armoury to stem the flood to Apple, which first began selling its iPad in April 2010.
Local IDC tablet numbers suggest 156,000 tablet sales by year's end with shipments of Apple's iPad 2 doubling, giving it an estimated 70 percent market share. However tablets featuring Google's Android operating system are growing quicker, peeling around 10 percent off Apple's first quarter sales.
The bulk of Android tablets were sold through the major carriers; the Samsung Galaxy Tab through Vodafone and other retailers and Motorola's Xoom through Telecom.
For an example of features and the direction things are moving in take a look at the 9.4 inch Sony Tablet S running the Android Honeycomb operating system. It has HD video recorder, twin cameras, microphone, GPS and wifi and optional 3G capability.
The touch screen unit is PlayStation certified, geared as a music player, a universal controller for your TV, PVR, DVD player, sound system, a web browser and e-book reader all in a dual screen folding design.

It allows users to 'throw' content including photos and videos to any compatible device with a simple swipe of the touch screen and can be the entertainment hub for a range of home media devices.
Steep curve ahead

Gartner has forecast global sales of tablets will rise an astronomical 261 percent to 63.6 million by the end of this year, with Apple taking the lion's share of 73 percent of sales, shifting 46.7 million iPads.
Android tablets were expected to account for around 17 percent of sales with other platforms confined to about 5 percent. In 2012 however Gartner expects Android will begin gaining ground with a 22 percent market share worldwide with Apple holding 50 percent share until 2014.
It's believed the key to Apple's success is the unified user experience across hardware and software platforms and services. Unless competitors can offer something similar Gartner believes their impact will remain minimal.

You would think there might be some confusion about which way to turn with so many offerings vying for attention. However Dick Smith marketing man Francois Smith believes there room for all these mobile computing platforms.

Decisions should made on what is "fit for purpose" he suggests, with many people already doubling up with a laptop, netbook, tablet or ultrabook.
The netbook will retain its own niche for those wanting a small form factor, lower powered internet and wifi terminals with limited computing capabilities for portability and travel.
"You might have an ultra thin for business to handle word processing and spreadsheets because of the keyboard and screen size and use a tablet for watching movies, social networking, reading a book or to share with the kids," suggests Smith.
Meanwhile there's no letting up in the innovation department for notebooks of all shapes and sizes. Screen technology, backlighting, enhanced audio and media handling, designer makeovers and colour schemes, portability and affordable are evident in new releases from all the major players.