Ratana Revisited: Overview of book

Ratana Revisited: Press Release

About Keith Newman

Further Ratana articles and reference material

Purchase a print of 'iconic' Ratana portrait by artist Paula Novak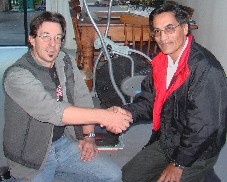 Ratana Revisited
An unfinished legacy
Keith Newman

Format: 215 mm x 240 mm, portrait, 588 pp + 3 colour sections of 8 pp = 310 pp, paperback
ISBN: 0790010577
Price: Out of print. Author has the last two boxes at $100 each.
Publication Date: 21 July 2006

Ratana Revisited writer Keith Newman with apotoro wairua and Ratana Archive founder Kereama Pene after sighting the final proofs of the book.
Few understand the pivotal role T.W. Ratana played in reviving the Maori spirit during the two world wars, not only through his healing and teaching ministry but through bringing the Treaty of Waitangi back into the public mind and steering the political will to address Maori issues. Keith Newman has gathered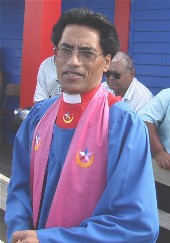 together material that has previously only been available in te reo or has not been accessible to the public at all. At the same time he has acquired a significant collection of historical photographs; including imagery from Ans Westra from her collection of photographs taken at Ratana in 1962, 1972 and in recent years.
This thoroughly researched, comprehensive book traces the connections between Ratana, the healer and prophet and political visionary, and the Maori prophetic and kotahitanga movements of the past 160 years. This landmark book brings together the hidden history of Ratana, the widespread nationwide influence of this pan-tribal movement and it is hoped it may restore to the morehu (the faithful survivors) a sense of their own heritage and destiny. Ratana Revisited also redresses the current lack of information and knowledge about the Ratana movement. Evolving over nearly 20 years, Keith Newman has gathered information and gained the confidence of key people within the Ratana movement in order to produce this fascinating volume of work.



Press Release
Ratana Revisited
Keith Newman


Apotoro and awhina ( below) at Ratana Pa celebrations January 2006. At right Keareama Pene who's determined research into the origins and history of the movement his great gradfather, grandfather and father had been members of was intsrumental in providing core research material for Ratana Revisited,.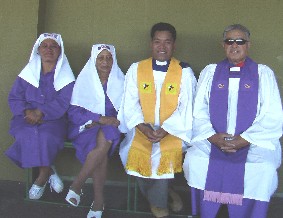 'Ratana Revisited: an Unfinished Legacy' has not been an easy story to research and write and has been even more difficult to finish…' begins Keith Newman's landmark work on the hidden history of T.W. Ratana and the movement he founded.
Very little has previously been written about the Ratana movement and few understand the pivotal role Ratana himself played in reviving the Maori spirit during the two world wars. T.W. Ratana was many things: a healer; a prophet; a political visionary; and advocate of the Treaty of Waitangi. He spoke prophetically of World War Two, of the bombing of Hiroshima, of New Zealand hosting an influx of Asian people, a Labour government led by a woman prime minister and a time when the Treaty of Waitangi would be on everyone's lips.
Inspired by his own brushes with the Ratana movement, Keith Newman has researched this history meticulously, getting to the heart of the Ratana story. Surprised by the lack of information available on Ratana, he began gathering information for this work in the 1980s. His position as a Pakeha outsider, he says, was both his greatest asset and obstacle. After being given an official 'no' by church elders in response to his request to access documents about the movement, he was later given unprecedented access to information by Uri Whakatupuranga (New Generation Trust) – the unofficial archivists of the Ratana movement. Much of the information Newman has drawn on has never before been translated from te reo Maori and was, for a long time, inaccessible to many within the movement as well as those outside it.
Motivated by a desire to restore to Ratana's morehu (faithful survivors) a sense of their own heritage and destiny, Newman has gifted all New Zealanders a detailed and comprehensive account of part of their history that has previously been inaccessible.
This is an engrossing read which draws the reader in and is illustrated with fascinating images by renowned photographer Ans Westra, taken at Ratana Pa between 1962 and 2005.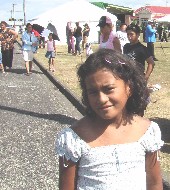 Keith Newman is a journalist with over 30-years experience writing for trade and mainstream publications covering a variety of subject matter from business and telecommunications to culture and music. He has published several book of poems, and produced about 20 radio programmes on New Zealand musicians for Radio New Zealand's Musical Chairs segment. He has won numerous awards for this work writing about the information technology and telecommunications industry including, Best Magazine Feature Writer, IC&T; Qantas Media Awards 2004 and the TUANZ Journalist of the Year 2004. Keith lives in Titirangi, Auckland.

A new friend (above) who came up and led me by the hand as we walked around the Ratana marae in January 2006 pointing out the pictures I should take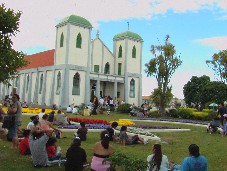 The original Ratana articles:


Article: New Beginnings Inspire Ratana Youth (1986)


A Sleeping Giant (2000)


Ratana legacy supercedes Labour (2006)
from the Just Change issue on Religion and Spirituality


Related poems: New Year's Day & Remnant Seed


Angela Ballara's extensive article on the Ratana movement:
The Dictionary of New Zealand Biography vol.3 (1996) also NZ Historyl


Explore the Ratana Church Official web which is now back on-line:

The Ratana Revisited two-part documentary was broadcast on National Radio August 6th and 13th featuring interviews with tumuaki Harerangi Meihana, original Ratana biographer Jim McLeod Henderson, former Labour MP Whetu Tirikatene-Sullivan and apotoro reihita Kereama Pene