NEW YEARS' DAY
The Gypsy house truck in the tide-line tussock
has hosted a decade of guests
since it was vacated by percussionist Jimi D
at the end of his days on the road.
I've slept a few nights there myself.

On our way north, my boy Miles and I
were diverted by a chance meeting
down the long dusty road to Karamu
Mina's all night vigils were showing on her face
Sadness and exhaustion - determination.

Smoke from the open fire blows my way
Beer and brandy flow on New Year's Day.
A feed of fat rock oysters is harvested.
Excited children crow over a net of 30 mackerel.

Mina props eyes wide warding off sleepless nights
We talk again as in the past
of deep things of the soul, the hurts, the visions.
Lloyd carves freshly killed beef into juicy steaks
and fillets the fish with his butcher's knife;
One-eyed Dan laughs heartily
about the Christmas Day marriage of a friend;
Steve pours another brandy.
We talk of beached whales
farmers who take delivery of toxic waste
in the middle of the night
and how to know who your friends are.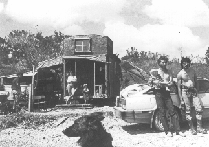 Gavin, Penny and Olivia, Terrance and
another Lloyd on another occasion
after a sleep-over at the old housetruck


Dogs bark in astonishment
as the windsurfer carves waves
on the old Kaipara trade route
between Otamatea Marae
and the remnant at Karamu.

My eyes keep straying to history across the inlet:
Queen Victoria, a bullet hole in her bust
fronting the 150-year old meeting house
Where the first Maori parliament was to have been.

A tree grows within a tree
Where a local chief's heart was eaten
by an invading enemy.
The old people remember the day
a fiery Wiremu Ratana defeated the tohunga
and stars fell from the heavens in a cosmic display.
The ghosts of dead warriors
no longer haunt these hills.
It's new years' day.

When the old day is done and the past slips away
It's time to start over on New Years' Day
- Keith Newman 1992-95 (C)

From the Buzz Words CD 1996
Music Gav Collinge
For a copy of the Buzz Words enquire here.




See Remnant Seed 1986


Back to Ratana Portal

To Buzz Words Index?