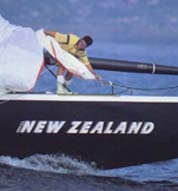 Black Magic (at right)

New Zealand Once Ruled the Waves
Backgrounder for the Kiwi Americas Cup Successes

By Keith Newman

New Zealand lost the Americas Cup to the Swiss boat Alinghi captained by New Zealander Russell Coutts.
The embarrassing 5-0 loss came after an unfortunate string of problems including the black boat filling with water, the boom breaking and the mast snapping.
Up until the end of February 2003 New Zealand held the coveted auld mug for the second time.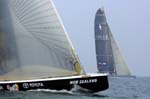 This small nation at the top of the world snatched away the globally sought after "Auld Mug" from the San Diego Yacht Club, California in 1995.

New Zealand challenged in 1986/87, '88 and '92 and finally under captain (the late) Sir Peter Blake on May 13, 1995 suceeded, bringing the cup home to the Royal New Zealand Yacht Squadron, Auckland.

The win came after an unsavoury slanging match with the Americans in 1988 when a Catamaran was entered against New Zealand's KZ1. The resulting court battles which initially declared the Kiwis the winners, were overturned after three years of wrangling. Again a minor issue over the bowsprit sparked a major dispute in 1992 preventing a new Zealand victory.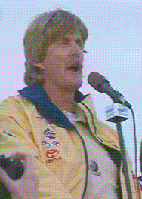 In the end New Zealand ingenuity, design, thinking and technology, as well as the combined efforts of Team New Zealand bought glory to these shores with the success of Black Magic against the world's best in 1995. The 30th defence of the America's Cup was staged in Auckland in February 2000 and won again by Team New Zealand in black Magic. The 31st America's Cup Match began on Saturday 15th February 2003.

(the late) Sir Peter Blake who inspired New Zealand to its success on the water on three separate ocassions.
In 2002 there were 10 challengers representing seven countries vying for the Louis Vuitton Cup and the right to race Team New Zealand for the America's Cup this time. This was whittled down to Oracle and Alinghi in the final race on February 19th 2003 with Alinghi taking the honours.