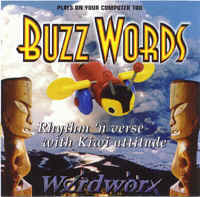 "An intriguing multimedia production packed with kiwiana and personal inspiration...quite unlike anything you've ever heard,"- Judy Voullaire, Ansett Airlines Inflight Magazine, July 1997.


"Buzz Words celebrates, satirises, praises and puts words and music to the expeirience of being in New Zealand...the title track is probably the quirkiest NZ song since Low Profile's Elephunk, from the early 1980s,"
- Nevin Topp, Christchurch Press Sept 3, 1997





Guest appearances by the Great Spotted Kiwi, the Brown Kiwi, the Tui, Kiwi icons: Barry Crump, Billy T James, Fred Dagg, Norm Kirk, Selwyn Toogood, winning Americas' Cup yacht Black Magic, some rugby greats and various other sampled sounds from TV and radio. Many thanks to John Haynes at Radio Pacific, the Radio New Zealand audio library, the NZ Herald for the Ruapehu images, the Buzzy Bee © Company for the rights to use the little fella. Cover art Brett Crocket, Wordworx photos Chris Miller. Buzz Words ©1997.