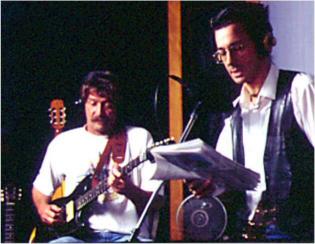 Keith Newman: Lyrics/vocals


Gav Collinge: guitars/composition:



Additional personel:
Vocals: Jacqui FitzGerald, Mahia Blackmore, various sound bites, fx


Engineer: Neil Hannan
Recorded at Scoop de Loop studios in Auckland, New Zealand


Produced by Newman,-Collinge, Hannan-FitzGerald
Sound effects and Kiwiana from a variety of sources. Thanx to Radio New Zealand and Radio Pacific archives.
Order a copy of the CD now!
New CD Cleaning Out the Garage due late 2001
All words Keith Newman, all music and composition Gavin Collinge.
Jointly registered with APRA as Wordworx (C) 1996
Live on stage, Ø = what? , Back to front?