Ocassional
Appearances:


Parachute Extreme Matamata
Feb 1996, 1997, 1998, 1999


New Zealand Software
Association Christmas party 1998


Support for Alan Brown Band


Rick's Blue Falcon, Parnell, 1998


Titirangi Village Festival, March 98.


Ponsonby Festival in the Park 1999,


Java Jive, Temple (Auckland) 2001


The Temple, Queen St, 2002, 2003


Toolroom Tales, Titirangi, 2002, 2003


New CD Cleaning out the Garage, 2003


More about Wordworx

Back to Buzz Words contents

Gav groovin'

Keith Newman, vocals/lyrics


Gav Collinge,
guitar, keyboard,composition, vocals.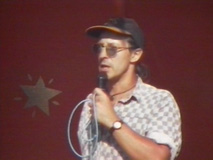 "Don't be part of the clobbering machine ..."
(Piccies taken direct from video using Snappy.)

Wordworx is available
for selected live performances.
Contact Keith Newman 649-8168686
or email
wordman@wordworx.co.nz

Photos takes as still from video camera
Parachute Festival 1997.