Kiwis on the edge in arts, music and media

A nation on the edge
Keeping a track of New Zealanders overseas who are achieving in business, the arts, music, science and information technology. A brilliant place to go to remove the Kiwi cringe factor. Kiwis are doing exceptionally well internationally for the size of the place and have no need to feel apologetic for size or achievement. Go Kiwi
http://www.nzedge.com/links/index.html



New Zealand History Net
Ministry of Culture & Heritage site filling an important gap with comprehensive information on NZ history and numerous links to relevant articles and reference material
http://www.nzhistory.net.nz/index.html



New Zealand Arts Resources
A extensive list of URLs where you can click off to the sites of every known site relating to New Zealand artists, musicians, craftspeople, dancers, organisations, government departments etc etc
http://url.co.nz/arts/nzarts.html



Median Strip On-line
Comprehensive site dedicated to the New Zealand radio industry with a focus on music, charts, news, radios, what NZ On-Air is up to etc
www.medianstrip.com



Radioworld
A thorough database of radio stations that are operating in New Zealand, including the frequencies they operate at, contact information and links to individual websites
www.nzmusic.org.nz



Amplifier.co.nz
New Zealand's prime location for MP3 downloads with regular features and popularity charts across a variety of genre's with independent and well known artists profiled. You'll find several artists with associations to Wordworx Webzine here including Keith Newman, Gav Collinge, Billy T K, Jacqui FitzGerald, Mahia Blackmore and Neil Hannan
http://www.amplifier.co.nz



Bands
Independent music site for hosting MP3s, streaming live gigs, industry information, articles, news, MP3 downloads,, interviews, features etc
www.bands.co.nz



RIANZ Revamped
The Recording Industry Association of New Zealand (RIANZ) which represents the major labels in New Zealand has revamped its website - making it a key resource for those needing information on matters musical.
www.rianz.org.nz

Rip it Up
Monthly music magazine with all the goss, record and video releases, games, interviews, you name it.
www.ripituponline.com



NZSongs
A moderated newsgroup for songwriters and those interested in local music
http://www.egroups.com to subscribe or contact Eddie O'Strange at bluesmoke@actrix.gen.nz

New Zealand film Archive
A combination of archive, library, cinema, gallery and research centre for the country's film and television community.
http://www.filmarchive.org.nz/

Whale Rider the Movie: The amazing Kiwi story written by Witi Ihimiara and producer by Niki Caro that has stunned movie audiences around the world
http://www.whaleriderthemovie.com/start.html
News media. information technology and research sites

NZ Herald

Stuff (Links to DominionPost, )

National Business Review

Computerworld IDG (IT news NZ)


NetGuide

Aardvark

MISweb

Daily IT News (Australia)

Independent NZ Newspaper

CNN News

The BBC

NZoom

Newsroom NZ

ABC Australia

Sydney Morning Herald

The Australian

Washington Post

The Guardian

The Independent

The Times

Financial Times

Wall St Journal

USA Today
Downloads, format shifting, TLAs, fonts, search engines and 60s music

Tucows

Downloads for desktop software, games, PDAs etc. Around
30,000 software titles through its worldwide network of partner sites, providing users with fast, local downloads. Also search and reference capabilities.
http://www.tucows.com/

Tired of the TLAs (three letter acronyms)?
Look-up the true meaning or get further confused by acronymns.
http://lookup.computerlanguage.com/host_app/search



Format shifting advice
Copy those old LPs on to a new format before upgrading your music collection or selling off those space consuming vinyl slices. Advice for turning vinyl into CDs from TechTV.com
http://www.techtv.com/callforhelp/print/0,23102,3333231,00.html



Acronym Finder
Puzzled, perplexed, confused or irritated with another TLA (three letter acronym) that you can't decipher? Here's the place that'll most likely put you in the picture.
http://it.acronymfinder.com/

NUA Surveys
Resource for Internet trends and statistics: http://www.nua.com/surveys/

Free fonts: http://www.downloadfreefonts.com/fontfiles/zfonts.htm

Now what was that song called? 60s punk, beat and psychedelic playlist
http://www.rimpo.de/playlist.html



Lost on the web
If you lose your way on the web you can always ask a search engine. There are a number of ways to locate your subject, simple place the word and search or use a Boolean search to refine your search by using 'and', 'or', 'not' or the 'plus', '-' and " " symbols to be more specific. The most popular search engines are: Alta Visa www.altavista.com , Infoseek www.infoseek.com , Yahoo www.yahoo.com , Excite www.excite.com , Ask Jeeves www.askjeeves.com and Hotbot, www.hotbot.com.

The On-line Learning Centre
Te Kete Ipurangi – The Online Learning Centre. TKI is a bilingual portal-plus web community which provides quality assured educational material for teachers, school managers, and the wider education community. It is an initiative of the Ministry of Education
http://www.tki.org.nz/e/tki/
Prophetic and spiritual futures sites

Be prepared for serious, inspirational, suspect and sinister sites, informative rants, new age deception, and lots of truth, wonderment and curiosities at Soul Searching links page or Apocalypse Wow which began as a millennium watch and just grew
Websites 3


The latest PC stuff http://www8.zdnet.com

Internet gaming zone http://zone.msn.com/


Ancient World http://www.julen.net/aw/

Privacy International http://www.privacy.org/pi/


Amnesty International www.amnesty.org.nz

Software developers http://www.nzsa.org.nz
Websites 3


Find MP3 files
Now that you have all the software set up on your PC and fiddle about with and play MP3 formatted music files you'll need some sounds to sample. This is great jump station to bookmark for the latest in techno, ambient, grunge, hip-hop, new age or any combination thereof. There are links off to the best of MP3 on the Web and treats along the way including the Double Mirrors site which specialises in 'cutting edge multimedia coverage of the cyber-spiritual revolution', 303net and other search engines focussed on MP3 content.
http://www.doublemirrors.com/MP3/



Rolling Stone
Still no moss. Explore the on-line version of the music industry tabloid that has kept mainstream music consumers in the know for nearly three decades. Vote on what's hot , the Double White Album or Dark side of the Moon? Catch up on muso news, latest releases, preview some sounds or order your music from the on-line store.
http://www.rollingstone.com/

Kiwi Christmas tree
The Project Crimson Trust is a national conservation programme, designed to protect our adopted Christmas tree the Pohutukawa and the rata from the ravages of disease and pesky possums. Volunteers have planted more than 100,000 trees since the project began in 1990. The Trust funds scientific research, community and school plantings and environmental protection. Here you can learn how to grow and look after them. http://www.projectcrimson.org.nz/
Websites 4


Let the sun shine in (retro stuff but still interesting)

For some the year 2000 stirs up images of an enlightened age of Aquarius for others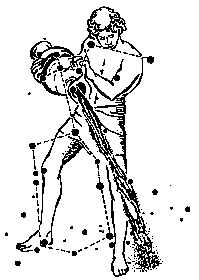 computer systems crashing or Armageddon (out-a-here?) and cataclysmic upheavals. The alignment of the major planets on May 5th 2000 is seen as evidence we have entered the 'new age'. I remember being totally sucked in by Griben & Plageman's book the Jupiter Effect which predicted catastrophe during identical alignment in 1982. There's nothing like a dose of science fact to put science fiction in its place. The sites at Bad Astronomy and the home pages of Brian Monson of Oklahoma School of Science and Mathematics will help straight out any misunderstanding. In laypersons terms: the alignment will have no greater gravitational effect than the Metro you have in front of you. While that might be a letdown for doomsayers and new agers there's comfort in the fact that science still can't detect those 'really cosmic vibes' yet man.
http://www.badastronomy.com/
http://drumright.ossm.edu/astronomy/conjunctions.html

Feed your brain
Brain & Mind magazine is a quarterly on-line production from Brazil with the latest research and thinking in neuroscience and related fields. Featured issue when I called: Pleasure and pain – drugs in society, with headings including 'The effects of cocaine on the brain' with an animation and discussion on the 'reward deficiency syndrome'. Heady stuff. Previous issues include artificial intelligence and bio-electricity.

http://www.epub.org.br/cm/

Take advantage while it's still free
It's sites like this that make you wonder at the generosity of some people. Of course they hope to become so successful one day they can eventually charge you for what you have become addicted to. However CNET with a daily update, the latest IT news and analysis and dozens of downloads is a winner. A cornucopia of freebies. www.download.com
Websites 5


Hot spots
Every 22-years the sun emits huge solar flares which cause cosmic storms of electrically charged particles which interact with the earth's magnetic field and can cause power blackouts and stun satellites into silence. A peak period with significant increases in solar activity occurred in 2000. Scientists at this NASA site are using new techniques to predict sunspot activity. There's also photos, graphics, historical and analytical data and a daily sun spot reading.
http://solarscience.msfc.nasa.gov/SunspotCycle.shtml

Molecular engineering
The Foresight Institute's focus is on nanotechnology, the coming ability to build materials and products with atomic precision. The central thesis is almost any chemically stable structure that can be specified can in fact be built. Here's a significant database of material including research from authour Eric Drexler who describes nanotechnology as "the engines of creation", lectures, books and scientific papers as well as FAQs and non-technical introductions. There's also some deep and freaky stuff about intelligence and military uses and how massive advancements could destablise the world.
http://www.foresight.org/

Don Juan & Co
Well pass the peyote look who's hiding out on the Web. The part-man part-myth Carlos Castaneda who's books featuring the teachings of Jacqui Indian sorcerer Don Juan were key references for my early 70s mystical binges. For years Don Juan and Carlos were dismissed as literary fiction now Carlos says it's all true. He's off on more cosmic journeys and has a bunch of new books and theories to peddle.
http://www.cleargreen.com/



Absurd flashy stuff
Amid the artfully flashing images and hidden links there is sense to be made, or is there? What am I doing here? De-generation..navigation...annihilation...presentation, textuals… everything's a link, but to what? "This site best experienced with mouth open to equalise the pressure on your eyes". Oh I see, it's a very arty anti-art statement: "a criticism of the modern technology known as web design". A nonsensical but nonetheless liberating experience.
http://www.absurd.org/

Keeping privacy public
New Zealand's Privacy Commissioner watches to watchers and is an advocate for the citizens who's believe their privacy has been invaded by business or Government. He's entirely underfunded but determined to keep our laws ahead of technology and ensure everyone abides by key privacy principals. Another site to watch for what's happening on a global scale is the Privacy Pages.
http://www.privacy.org.nz/
http://www.privacy.org/



Glasspainter
What an amazing talent John K Clark has for creating stained glass windows for synagogues, churches, café's and memorials. His work radiates splendid hues of colour and creativity. Here at his superbly crafted Web gallery you can watch slide shows of how he does it and view, among other projects, a full set on Jewish festivals and their meaning crafted for Queen's Park Synagogue in Glasgow, Scotland. www.glasspainter.com

Web sites 6


World teacher alert
Apparently we've stuffed up so bad we need a world teacher to lead us into the new age. Benjamin Crème sees himself as a modern day John the Baptist paving the way for the imminent return of Maitreya or 'the Christ' and a host of ascended Masters. At this site you can see the only photograph of the so-called Maitreya and details of his alleged appearances and associated miracles. Crème says Maitreya is currently meeting with senior people within the Roman Catholic church and the Masonic movement in preparation for his revealing.
http://www.shareintl.org/maitreya/Ma_main.htm

Doomsayers guide to reality
Attempts to predict the end of the world have to date been a disaster. We're still here. As we creep toward three zero hour the dire predictions are pouring in. Here you can see the sad state of those who dared to set dates for things that cannot be known. Reports of aligning religious festivals in 992AD had people believe the antichrist was about to enter the stage. Records from Germany state a new sun rose in the north and that as many as three suns and three moons were fighting. At the turn of the first millennium many gave their possessions to the church in anticipation of the end. Unfortunately, when Jesus did not appear the church kept the gifts. You'll also find at this location a series of essays on TEOTWAWKI (The end of the world as we know it) and millennial madness.
http://www.religioustolerance.org/end_wrld.htm

Mister poll
Mister Poll is interested in what you think about anything and everything. Among the directory of the polls which has been run you will find something to amuse, confuse or annoy. It's not scientific but its fun. You can make up your own polls or plug a form into your web site. Last visit 67 per cent believed in aliens, Star Wars and Star Trek were about even in the popularity stakes and 58 percent believe technology was more important than religion.
http://www.misterpoll.com/
Web sites 6

Generation game
The largest genealogical database in the world is maintained by the Mormon Church in a granite vault cut into the Wasatch mountains 40 km Salt Lake City, Utah. Now its on-line – the site contains 400 million names dating back to 1500. The test site received 2 million hits on its first day up and had 7 million a day since. You can spend hours delving back into the gene pool. www.familysearch.org

Witness in the stars
"Let them be for signs and for seasons." (Genesis 1:14). "Night unto night they show knowledge" (Psalm 19). The stars are not simply gems on the black velvet twinkling for our pleasure, they proclaim a deeply symbolic story, but not necessarily the same one an astrologer or astronomer might tell. This extraordinary hyper-text version of the book Witness in the Stars, written in 1893 by E W Bullinger, finds great accord between the theatre of the night sky and the 'old old story'. From Gemini in the Garden of Creation, to Pisces the two fishes pointing to the age of Christianity, Aquarius the water bearer ushering in spiritual revival, and Leo the 'Lion of the tribe of Judah' lying down with the Lamb to rule and reign for 1000 years of peace. Despite fundamentalist fuming against anything even vaguely related to astrology, the Bible itself is full of such ancient symbolism. If God is God why wouldn't he write on the roof?
http://philologos.org/__eb-tws/
Websites 7

Websites 10

The secure self
The rogue personal security software PGP (pretty good privacy) allows highly secure communications and invisible transactions. PGP, available for free download, uses asymmetric public key encryption. You publish one key and keep the other to yourself. Ultimately such packages, according to one theory, may lead to the 'sovereign individual' with governments competing for citizens. The US is unhappy such encryption, still technically illegal to export, has found itself in the international public domain in an enhanced form. http://www.pgpi.org/

20,000 Megabits under the sea
Distance is our disadvantage when it comes to travel and trade. With gigabit capacity bandwidth we can work around it. In the US, most carriers are focused on connecting to Asia and Europe. By 2001, undersea its capacity will increase from 32 Gbit/s to 1000 Gbit/s. Australasia did not figure in their plans. Back in 1996 Telecom decided to do something about the bottleneck and began championing Southern Cross, a three ring cable capable of 400 Gbit/s but effectively halved to guarantee quality bandwidth. Its capacity is 160 times greater than the existing PacrimEast Cable. The Southern Cross undersea cable, to be managed 24 hours a day from Auckland, will bring economic relations even closer with Australia and the US once it comes on stream in November 2000. www.southerncrosscables.com (refresh this)



Beware fat content
Check out the rich media content available on the Internet from search engines that look specifically for sites with audio music files ( http://www.listen.com/ ) to locations that provide thousands of hours of lectures, talking books live radio and yes even movies ( www.broadcast.com ).

Getting to know yourself
Cyberia Shrink's voluminous collection of original psychological tests is perfect if your feeling introspective. Got an attitude problem, need a personality transplant, a depression check or an intelligence test without visiting the Scientologists?. I clocked 59/100 for emotional exhaustion in the burnout inventory. Please send get well cards to….Nevertheless good advice, I will watch the workload. This site provides a helpful check against what you probably already know about yourself. A quick ticking of a few boxes may make the difference between ignoring your condition for another year and making the needed changes. http://www.queendom.com/tests.html




Exit stage left
In case you wanted a guesstimate of when your exit flight has been scheduled. Based on age, health and a range of other probable and improbably variables you can see how many billion seconds this site thinks you have left. A friendly reminder the, days, hours, minutes… are ticking away. I got quite a shock. My expiry date is apparently January 2010. And I chose the optimistic' option. It just doesn't seem fair for one so young.
www.deathclock.com
WebSites 11


We're not in the factory any more
'Information age expert, speaker, consultant, futurist, technologist' Ray Strackbein, says industrial age rules don't work in the information age. The goal of the industrial age was Utopia, the perfect, predictable civilisation that ran as well as a machine. The lesson for the information age warns Strackbein is "uniformity threatens the planet, variety supports it". The way to get ahead in a career is not to become 'a standardised commodity with specific certifiable skills' but to discover and capitalise on the talents and experiences which make you unique. http://www.strackbein.com/

Tired of TLAs?
Techno jargon and industryspeak are one of the main obstacles preventing the average onlooker from seeing into the not so hallowed domains of computer sales, and information technology know-how. Here you can simply ask any techo question and all will be revealed. What's a hacker, a cracker, a phreaker or the real meaning of ISDN, LMDS, DSL and DDS? Enough already. Careful though, singling out one acronym for demythologising may require unraveling a further10 before you get the answer. 2here
http://www.whatis.com/

WebSites 12


Auckland earwaves
The future of commercial prefabricated radio is under threat from upstarts such George FM ( http://www.georgefm.co.nz/ ) which dare to focus on alternative sounds, albeit only in Ponsonby and Grey Lynn. George and Channel Z ( http://www.z.co.nz/ ) follow in BFMs ( http://www.95bfm.co.nz/ ) footsteps and along with Mai FM ( http://www.maifm.co.nz ) and Life FM ( http://www.lifefm.co.nz ) bring to the refreshing variety of broadcast inner city sounds. All we need now is a non-commercial youth radio station and evidence that local content quota are making a difference so we can hear what we look like.

Aging as manure
Anagram Genius ( http://www.anagramgenius.com ) lets you submit any series of words including people's names and it'll come up with a long list of sometimes amusing or insulting anagrams and email you the results. For example Bill Ralston becomes 'blast in roll', Keith Newman 'Ahem! net wink' and the Treaty of Waitangi 'agitate if torn way'.

A digital decade
While 12 months old this site still has nine years of forward thinking to consider( http://www.idg.net/crd_technology_9-118820.html ). Technology publisher IDG tapped the brains of 20 visionaries including 'father of the Internet' Vint Cerf, Microsoft's Bill Gates, Sun's Scott McNeally, Pattie Maes from MIT Media Labs, John Seely Brown director of the Park Xerox research centre and veteran rock star David Bowie ( www.davidbowie.com ) on the ch-ch-ch-changes ahead. Realaudio clips included. Technology watchers should also bookmark IDG New Zealand, publishers of Computerworld, which serve up strong weekly Kiwi coverage ( www.idg.co.nz ).

The cloned stranger
By 2003 the Human Genome project expects to be able to publish the entire DNA code of a human on a CD-ROM. The project is unravelling the code that makes up life as if it were programmable software – which it certainly is ( http://www.ornl.gov/hgmis/resource/students.html ). Within 50-years we are expected to have moved from silicon-based processing to quantum computing ( http://divine.stanford.edu/ ), optical and even DNA computing as our scientists continue to mimic the Creator.



Millennium messages
Urgently needed: fresh vision and inspiration. Can we rely on the crusty old voices of the past to enlighten and motivate or do we have to look elsewhere? The Archbishop of Canterbury ( http://www.archbishopofcanterbury.org/ ) George Carey (no relation to Jim) and his Catholic counterpart Pope John Paul ( http://www.vatican.va/ ) must surely have some elevating words to mark the millennial moment. You would expect hardy perennial Billy Graham might have some insights ( http://www.theway.billygraham.org/ ) and certainly Queen Elizabeth ( http://www.royal.gov.uk/ ) should regale us with something fittingly regal to lift our spirits.

Suggestions: wordman@wordworx.co.nz


See also Apocalypse Wow! (weird and addictive links)


Back to Wordworx Webzine

Web: http://www.wordworx.co.nz