Across the ditch

For many Kiwi musicians in the 60s and 70s Australia was 'overseas' and there was a mass movement across the Tasman. A large number of Australian bands featured a New Zealander somewhere in the line-up or the road crew, and many Kiwi bands were soon assimilated into the Australian culture.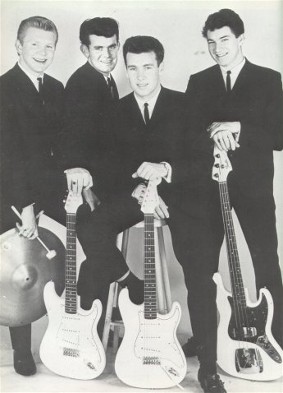 At the end of 2002 Australia showed its commitment to the musical giants in its cultural legacy by staging a retrospective tour featuring its top rock 'n roll artists. It's a Long way to the Top (if You Want to Rock n Roll) paraphrased the AC/DC hit and featured in its line-up Kiwis Dinah Lee, Max Merritt (at right with Meteors), Ray Columbus & the Invaders (featuring

Dave Russell on guitar) and La De Das founding member Kevin Borich.

The tour played to 160,000 people in 18 arenas in September 2002.



Johnny Cooper

New Zealand's first rock 'n roll artist toured Korea with a New Zealand Broadcasting Service Entertainment Unit in 1953. He had a hit with Pie Cart Rock ' n Roll. However he was a reluctant rock 'n roller preferring instead the country music he started out with.

Of course New Zealand's first rock 'n roll idol was Johnny Devlin. After six tours of New Zealand and recording 47 songs in 18 months he headed to Melbourne with his band the Devils to appear with the Everley Brothers. Soon he became a part of the Australian scene with many TV appearances in 1959 and a top 20 hit. In 1965 on the advice of The Beatles manager Brian Epstein he went to the UK where he signed a three year recording contract with CBS. His second single made radio London's top 10 but he ran into work permit problems and was forced to return to Australia in 1967. Devlin now in his 60s

is still performing his rock ' n roll shows to Australian audiences having played well over 2000 shows in the past decade.



Max Merritt & The Meteors went to Sydney for a short visit in 1963 but didn't make a major impact until later in the decade. In the early 70s Max became Australia's 'King of Soul'. After 10 years in the UK and 22 years in Los Angeles, Max decided to call Melbourne home again in 2003. He'd been one of LA's top set builders, responsible for Madonna's Material Girl set, and rebuilt his own home after it was destroyed in the 1996 earthquake. His return to Australia coincided with gigs supporting legends Ray Charles and Wilson Pickett and The Long Way To The Top regional tour which featured a number of other Kiwi artists who'd been adopted by the Aussies.

From 1975 Max and the boys had spent a decade touring the UK with bands like Fleetwood Mac after signing to Arista records. In the band's heyday it featured top Kiwi drummers Johnny Dick and Bruno Lawrence and bass players Teddy Toi, Billy Kristian, Dave Russell (bass and guitar) and John 'Yuk' Harrison who all went on to have successful careers across the Tasman.

Teddy Toi and Johnny Dick went on to join Billy Thorpe & the Aztecs and Toi later joined Lobby Lloyd's Wild Cherries.

Ray Columbus and The Invaders (below) commuted to Sydney in 1963 and 64 and had a string of hit singles including Kupow (an i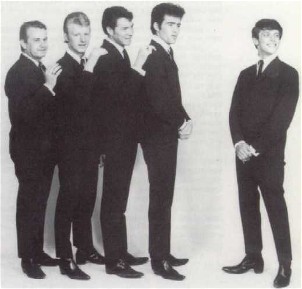 instrumental, embraced as a surfing classic, a cover of I Wanna Be Your Man, On My Mind and then hit the big time with She's A Mod which went to number one for seven weeks across Australia. The follow up YoYo didn't fare as well but gained a number one in New Zealand and the follow up C'mon and Swim made the Top 40. Till We Kissed reached number four in Australia and hit the top spot twice back home.
Ray Columbus & the Invaders made five national tours of Australia between late 1963 and early 1965. They supported The Searchers with Dinah Lee as part of the act, The Rolling Stones and Roy Orbison, Eden Kaine, Tom Jones and Herman's Hermits and were double billed with Billy Thorpe and the Aztecs.

Ray then moved to San Francisco where he was one of the first to record on 8-track with his backing band The Art Collection which also supported The Turtles in 1967, played the San Francisco International Pop Festival and other festivals in San Jose (with the Steve Miller Band) and supported Eric Burdon & The new Animals at San Francisco Auditorium. In 1968 he was back in New Zealand featuring in C'mon and signed to contracts that would keep him at home for 16-years. Since the 1970's he's regularly gone to the US to promote New Zealand music.

In 1964 Bill and Boyd moved to Australia on the strength of their first Australian hit Chulu Chululu recorded live at the Rotorua Sound Shell. The duo quickly became regulars on television and on the club circuit. They settled in Australia and in 1968 toured America with the Supremes and Herb Alpert.
The Action (with Evan Silva), Compulsion (featuring Reno Te Hei, Paddy Beach and Ben Kaika and later Evan Silva on vocals) made inroads in the club scene in Sydney and Melbourne and were soon joined by many others including Leo de Castro (Cahoots, The Browns, King Harvest, Friends, Johnny Rocco Band and Babylon) and cabaret singer the late Ricky May (1979 Australian Entertainer of the Year).
Andy Anderson best known on the small screen for his parts in TV series Marlin Bay and The Sutherlands, was an early convert to rock 'n roll playing in several Kiwi bands before hoping the Tasman at the age of 16 with his sparkling green Ludwig drums. He changed his name to Andy James and ended up and fronting one of Sydney's most notorious rhythm n blues bands in 1965 the Missing Link. They went through major line-up changes, recorded a couple of singles and an album and then Anderson went on to form Running Jumping Standing Still which played the Melbourne scene and became a further outlet for his wild stage antics.
After haemorrhaging on stage he was hospitalised and once he'd recovered went on to form his own band the aptly named Andy James Asylum. He then formed Mother Superior, "an experimental outfit mixing R&B players with brass players".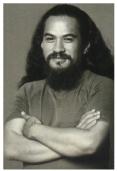 Back in Sydney Anderson joined former Auckland band The Action on drums for a term. After a stint with the Australian production of Hair he headed back to New Zealand where he became better known as an actor. (Andrew Schmidt http://www.ugly-things.com ).



In 1961 guitarist and soulful singer

Malcolm Hayman left his band the Trademarks which had a longstanding residency at the Mexicali in Wellington and went to study at the New South Wales Conservatorium of Music, ahead of two years on the cabaret circuit with a variety of bands. He was a severe diabetic and in 1965, during a residency in New Caledonia, came down with tuberculosis, and was forced to spend 14 months in Noumea Hospital. On returning to Wellington in mid-'66 he formed the Soundells a regular crowd puller at Wellington's Downtown Club. When his band left to try their luck in Auckland Hayman was asked by the club owner to pull together another band and in doing so created the legendary Quincy Conserve.

Guitarist and singer Mike Rudd (Chants R&B) moved to Australia and joined Ross Wilson's Party Machine on bass in June 1967. In April 1969 Rudd formed Spectrum and Ariel in 1973 and is regarded as a seminal figure in the 60s-70s Australian rock scene.

Larry's Rebels went to Australia in 1966 to play support for the Easybeats, and were back a year later. They returned in 1968 minus Larry for a tour of duty before returning home for good. Larry Morris, the charismatic lead singer opted for a solo career and released a number of successful singles and made regular television and club appearances. Glyn Mason remained behind joining Aussie rockers Chain and Ariel.

The La De Das (Kevin Borich is still considered one of 'Australia's' best guitarists) were hot property and were regarded as one of the top Aussie bands for a number of years. Keyboard player Bruce Howard has a recording studio there.

Dalvanius & the Fascinations made a real mark on the Australia circuit and played for several years on the P & O Cruise line along the American Hawaiian coast. They provided providing vocal backup on albums by Renee Geyer, Richard Clapton, Johnny O'Keefe, Reg Lyndsay and Sherbert's triple platinum Life is For Living album. This led onto three years of touring with Sherbert, which featured New Zealand songwriter and keyboard player Garth Porter.

When Sherbert broke up, Dalvanius returned to New Zealand and took Tokoroa-based funk band Collision to Australia getting them signed with Festival. The Fascinations and Collision toured extensively throughout Asia. Dalvanius & the Fascinations continued to tour as part of the Poi E 'concert extravaganza' which debuted in 1985 at a Royal Command Performance. The single Poi E made the NME Single of the week. The band later toured the US.

Charlie Tumahai played with Australian unit Friends with his mate Leo De Castro then Mississippi before they became Little River Band and on to join Be Dop Delux in the UK before returning home to join Herbs which had some degree of offshore success touring Noumea.

John Rowles brother Frank or Frankie Rowles had his own musical career in the late 1960s and early 70s, originally recording as Frankie Price touring pubs and clubs on both sides of the Tasman and regularly performing in Tahiti and around the Pacific Islands. Frankie Rowles died on March 24, 2004 aged 59.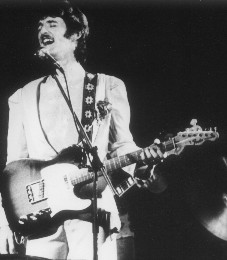 Keyboard player Mal Logan from Wanganui was in several of Renee Geyer's bands. Mal later joined the Little River Band. Doug Rowe bass player from The Saints and The Castaways formed Australian band Flying Circus which later featured well-known session guitarist Red McKelvie. Tim Piper from Christchurch (Chants R& B, The Breakaways and now a music teacher in Sydney) went on to play guitar with a number of top Aussie bands including Chain, Carson and the Renee Geyer Band. He worked closely with Claude Papesch (Electric Heap) who formed Johnny Devlin's Devils in the late 1950s and went on to play in several units across the Tasman featuring local players Ricky May and Bruno Lawrence. He was a temporary member of Blerta during their sojourn in Sydney as was Tim Piper. Blind keyboardist extraordinaire, Papesch was so revered he was elected mayor of Lithgow City in 1984, but died aged 45, in February 1987 before he'd completed his term of office.

Kiwi drummers were also in demand: Barton Price joined The Models, Rob Hurst linked up with Peter Garrett and Midnight Oil, Brent Eccles became an Angel and former Avengers drummer Hank Davis and guitarist Dave Brown went on to form Bakery.

Dave Miller's Byrds from Christchurch had been a hard working, hard rockin' unit influenced by the heavier British sounds. They moved to fill the shoes of Ray Columbus and the Invaders at the Shiralee in Auckland. When the unit broke up Dave Miller headed to Australia in 1966 and formed the Dave Miller Set, which made a major impression.

Rod Coe the original bass player with Craig Scott's Revival went on to become a highly respected session musician and producer in Australia playing with Murray Partridge's band Freshwater, The Doug Parkinson Band and The La De Das.

Highway, featuring Bruce Sontgen on vocals, Phil Pritchard on guitar, George Barris on bass, George Limbidis on guitar and Jim Lawry on drums after local success moved to Melbourne in 1970. Hi-Revving Tongues were residents at Whiskey A Go Go in the heart of Sydney's club scene for before returning to New Zealand to support their single Rain & Tears which was heading toward the number one spot on the New Zealand charts.

Simple Image also moved to Sydney where they played clubs and did session work including providing the backing for Gene_Pierson's psychedelic hit version of the Four Top's Reach Out in 1970. The band broke up in 1971. Aussie draft dodger Pierson had performed and recorded in New Zealand for a couple of years before returning to Australia in 1969. Simple Image disbanded in 1971 however guitarist and singer Barry Leef (pictured at right) had his own bands in Sydney for three decades often with former Highway guitarist Phil Pritchard. Leef was for many years married to singer Erina Clark who is sought after in her own right as a recording artist and session singer – she sang the theme song for TV series Home and Away for example and in 1997 performed in Los Angeles, London, Ireland, Istanbul and Beijing.

In June 1972 Kiwi superband, Ticket crossed the Tasman, to perform a month long residency at Sydney's Whiskey-Go-Go. The reaction exceeded everyone's expectations, and rather than returning to Auckland, Sydney based promoter Robert Raymond secured them a further residency at Chequers nightclub and book them for performances in Queensland and Victoria. Ticket featured Eddie Hansen on guitar, Paul Woolright on bass, Trevor Tombleson on vocals and Ricky Ball on drums.

The band's single Awake /Country Radio was released on Atlantic Records while they were across the Tasman and they recorded their second album "Let Sleeping Dogs Lie" in Melbourne. This was self-produced and recorded at Channel Nine's 16-track studio and released in late 1972. There were big plans for the band after they appeared at the Ngaruawahia music festival back home in 1973 including touring with Black Sabbath but within months the band had folded after conflict over lifestyle and musical directions.

Eddie Hansen now runs his own successful recording studio working on a range of project and collaborations in Brisbane Australia. Another Kiwi guitar hero Harvey Mann is in regular contact with him and also involved in session work and recording. Drummer Glenn Absalom keep in touch with them and there are plans for a reunion which in itself would be something of a supergroup as between them they are past members of Ticket, The Underdogs, Space Farm and Living Force.

Airlord, formed in Wellington in 1976, played the pub circuit and headed for Australia the following year where they recorded what has been described as an excellent album of symphonic rock music called Clockwork Revenge. The group which only played originals ,disbanded in 1978. Its members were Steve MacKenzie (guitar, vocals), Ray Simenauer (guitar, vocals), Brad Murray (bass, vocals), Alan Blackburn (keyboards) and Rick Mercer (drums).

Dragon ( featuring brothers Marc and Todd Hunter on vocals and bass respectively, Robert Taylor on guitar and the late Neil Storey on drums and later Paul Hewson on keyboards) crossed the Tasman in 1974 and after 18 months of hard slog made it into the mainstream. They were rarely out of the Australian charts between 1976 and 1978. They were awarded Band of the Year, Most Popular new Group and achieved gold and platinum records. They toured the US twice with little success, although their music did get airplay. A later version of the band toured Europe as support for Tina Turner until multiple tragedies saw an end to their career. Drummer Neil Storey died in 1976 and keyboardist and songwriter Paul Hewson died in Auckland in January 1985.

Mi-Sex (featuring the late Steve Gilpin plus Richard Hodgkinson, Don Martin, Murray Burns and Kevin Stanton) also used Australia as a launching pad for their international recording and touring career and while their records made the US charts and a tour was planned it never eventuated.

Nash Chase and his wife left New Zealand for the entertainment circuit in Sydney in February 1973. Tony Littlejohn from The Movement and Blerta had his own jazz-funk unit in Sydney between 1975-77 simply called Littlejohn, Mother Goose headed to Australia in October 1976 and after two albums faded into obscurity. Tolepuddle and Brent Parlane also made some impact on the Sydney scene.

Jon Steven's formed Noiseworks there and after the death of Michael Hutchence worked with INXS and in 2002 toured the US with them. Two and a half years after becoming INXS' "probationary" singer Jon Stevens had the job officially in time for their 2003 album. He quit soon after.



In the 90s Ardijah were regularly gigging around Sydney venues. Fan Club got airplay in Sydney and had a number one hit in Indonesia. Ace guitarist Harvey Mann apparently still lives in Goulburn, NSW running a recording studio after moving to Australia permanently in 1979.

Female singers who'd reached the height of their career in New Zealand and migrated to add to the Australian talent pool included Sandy Edmonds, who was primed for major chart and fashion success in New Zealand by promoter Phil Warren. Dinah Lee who had a top 10 hit with Don't You Know Yokomo and with the support of Johnny O'Keefe was soon recognised as a major talent. She moved to London for a while, was the only Australasian female singer to appear on America's Shindig show and is still sought after on the Australian cabaret circuit.

Allison Durbin moved to Australia in October 1966 where she sang with the Mike Perjanik Group before pursuing a solo career. She got significant TV exposure and picked up the "Queen Of Pop" award for Best Female Artist in 1969, 1970 and 1971.Her husband fellow Kiwi Howard Gable was an extremely influential producer there in the late 60s, early 70s, with credits including The Masters Apprentices, Zoot and many others.

Maria Dallas recorded six albums for Viking between 1966 and 1967 where she recorded several albums and singles. In 1967 she moved to Australia, before venturing to Nashville, where she did a considerable amount of recording. New Zealanders had almost forgotten about her until she returned in 1970 with a song called Pinocchio which went all the way to number one on the national charts.

Tina Cross maintained a high profile with numerous television appearances. When the hits dried up in 1982 she ventured to Sydney and began singing on the cabaret circuit. In 1984 she teamed up with composer-pianist Leon Berger and formed Koo De Tah. They had a hit with Too Young For Promises in 1985, which made it to 6 on the Australian charts.

Sharon O'Neil remains a prolific recording artist and songwriter much revered in Australia. Singer Beaver lived and worked in Australia for a period and recorded the album Live At Ronnie Scott's in London in 1987. Jenny Morris arrived in Australia in 1980 with the Crocodiles, joined QED, and recorded an album in 1984. She was a backing singer with a number of bands including INXS, achieved mainstream airplay with several singles and toured Europe in 1990 as support to Prince. Margaret Urlich has had platinum albums in Australia and New Zealand and has worked in studios in London and Los Angeles.

Annie Crummer's opportunity knocked when she had a number 16 spot on the local charts after appearing on the show of the same name back in the late 70s then her enormous voice could be heard way out front of the hit For Today by the Netherworld Dancing Toys. After a spot with When the Cats Away she supported Sting, K D Laing and Michael Jackson on their New Zealand tours and released solo albums Language and Seventh Wave. Then in 2000 she returned from doing a musical in Australia. In 2003 she scored the key role of Killer Queen in the Australian version of the stage musical We Will Rock You.