By Keith Newman

New Zealand music icons Neil Finn, Dave Dobbyn and Shona Laing all featured in the recently published list of the top local songs of the past 75-years despite being ignored by local radio until they achieved international chart success.

Wayne Mason's classic 1970 number one hit Nature was voted the best local song and artists as diverse as Split Enz, Ruru Karaitiana, Bic Runga, Fur Patrol, Hello Sailor and Blerta were rated in the top 30 songlist .

Ironically many of the songs voted into the top were initially rejected by New Zealand radio for airplay. Dave Dobbynís Slice of Heaven ( 1986) for example only made it to the playlist when the album Footrot Flats achieved so many sales it could no longer be ignored. The result was a number one hit.

That same year Crowded House released Neil Finnís Donít Dream Itís Over which was snubbed by local radio. When a supergroup including Paul Young and Midge Ure announced they would perform a special song at Wembley Stadium for the Nelson Mandela concert the audience erupted when it was discovered it was Donít Dream Itís Over. It went to number 2 position in the US before New Zealand radio even touched it.

Also ignored by local radio was Shona Laingís Glad Iím Not A Kennedy (1987) which was rejected in New Zealand until it had shot to number one on the Australian charts ( North Meets South Ė Popular Music in Aotearoa 1994).

These three songs all feature in APRAís top 30 songs of the last 75 years. Meanwhile commercial radio broadcasters are currently negotiating with Broadcasting Minister Marion Hobbs over plans to introduce music quotas.

Ms Hobbs wants all radio stations to gradually move up to a 25 per cent New Zealand content quota voluntarily Currently the national average is just over 10 per cent with broadcasters protesting that 25 per cent is too high. Attempts to bring in a radio quota in 1985 and 1990 were also opposed by broadcasters and eventually failed.

Meanwhile APRA (Australasian Performing Rights Association) members and invited guests. who were invited to select their top 10 favourites in no particular order have spoken. Nature, a hit for Mason's band Fourmyula, was and covered The Muttonbirds two years ago was rated number one. Mason has just re-recorded a version for his newly released solo album Same Boy.

"New Zealand is a very physical, very natural sort of country. It does sound very 60s with its lyrics, but when I wrote it, it was a very serious attempt at writing about how I feel, creating this big picture which I tried to describe," says Mason.

The list was announced at Apra's annual Silver Scroll award for songwriting. The worldwide Crowded House hit Don't Dream It's Over was the second most popular song. The writer of that song, Neil Finn, didn't miss out on a prize however, receiving the Silver Scroll, one of New Zealand music's most highly regarded awards, for his song Turn And Run.

"These songs have secured a very real place in the cultural tradition of New Zealand. The event was a massive celebration of New Zealand music from our past and of our present," said Mike Chunn director of New Zealand operations for APRA.

However the awards werenít without their critics, with claims Maori and Polynesian acts werenít sufficiently represented. So where was Poi E the hit from Dalvanius and The Patea Maori Club or How Bizarre from OMC, Herbs, John Rowles or Sir Howard Morrison or Prince Tui Teka? Most of those with negative comments to make however admitted they hadnít voted for various reasons. Well you canít please everyone,

Meanwhile Neil Finn, for so many years not eligible for the APRA Silver Scroll Award as he was not resident in New Zealand, has proved his song writing skills are "still the powerful, emotionally charged force they have always been," says Mike Chunn. Turn And Run was a clear choice for the Apra Silver Scroll judges. "It's near perfect marriage of lyrics and melody into a work."

The other five finalists for the Silver Scroll were:
American Wife (Geoff Maddock, Kirsten Morelle, Joel Wilton, Ben King, Andrew Clark, Golden Horse),
King Kong (Buzz Moller, Voom),
Screems From Da Old Plantation (Bill Urale, Kas Futialo, King Kapisi),

Fade Away (Che Ness, Che Fu)

Sophie (Gareth Thomas, Rodney Fisher, Murray Fisher, Michael Beehre, Goodshirt).

Also presented at the awards were prizes for the most performed work in New Zealand (Julia Deans of Fur Patrol for Lydia), the most performed work overseas (Neil Finn for Don't Dream It's Over), and the Sounz contemporary award to Gillian Whitehead for The Improbable Ordered Dance.




New Zealand's top 30 songs of the last 75 years

1. Nature, Wayne Mason (Fourmyula, 1969)
2. Don't Dream It's Over, Neil Finn (Crowded House, 1987)
3. Loyal, Dave Dobbyn (1988)
4. Counting The Beat, Phil Judd/Mark Hough/Wayne Stevens (The Swingers, 1981)
5. Six Months In A Leaky Boat, Tim Finn (Split Enz, 1982)
6. Sway, Bic Runga (1997)
7. Slice Of Heaven, Dave Dobbyn (Dave Dobbyn with Herbs, 1986)
8. Victoria, Jordan Luck (Dance Exponents, 1982)
9. She Speeds, Shayne Carter (StraitjacketFits, 1987)
10. April Sun In Cuba, Paul Hewson/Marc Hunter (Dragon, 1978)
11. I Got You, Neil Finn (Split Enz, 1980)
12. Whaling, Dave Dobbyn (DD Smash, 1984)
13. Not Given Lightly, Chris Knox (1990)
14. Pink Frost, Martin Phillipps (The Chills, 1984)
15. Jesus I Was Evil, Darcy Clay (1997)
16. Weather With You, Tim Finn/Neil Finn (Crowded House, 1991)
17. Blue Smoke, Ruru Karaitiana (Pixie Williams & Ruru Karaitiana Quartet, 1949)
18. Dance All Around the World, Corben Simpson/Geoff Murphy (Blerta, 1972)
19. Lydia, Julia Deans (Fur Patrol, 2000)
20. Blue Lady, Graham Brazier (Hello Sailor, 1977)
21. Drive, Bic Runga (1996)
22. Chains, Che Fu/DLT/Angus McNaughton/Kevin Rangihuna (1996)
23. Dominion Rd, Don McGlashan (Muttonbirds, 1993)
24. Glad I'm Not a Kennedy, Shona Laing (1986)
25. I Hope I Never, Tim Finn (Split Enz, 1980)
26. Tears, Fane Flaws/Arthur Baysting (Crocodiles, 1980)
27. Be Mine Tonight, Dave Dobbyn/Ian Morris (Th'Dudes, 1978)
28. I See Red, Tim Finn (Split Enz, 1979)
29. Beside You, Dave Dobbyn (1998)
30. Home Again, Karl Kippenberger/Tom Larkin/Phil Knight/ Jon Toogood (Shihad,
1997)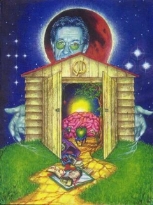 Poetic licence
Original poems and lyrics from Keith Newman (wordman) including excerpts from the forthcoming multimedia CD and book Cleaning Out The Garage, 2001 ©




the Web book begins here
Rhythm 'n verse with Kiwi attitude


Buzz stop: It'll bee a buzz


Beelinks

Some of our beeswax

Human Instinct : Underground band resurfaces
Dedicated to the cult Kiwi band. Includes The Legend of Jesse Harper.


Kiwi music page and gallery