Kiwi beat band breaks into British scene
The early years of the Human Instinct (Revised from liner notes to the Best of Singles CD)

By Keith Newman

The legendary underground band Human Instinct continues to inspire musicians and explore new territory 30-years after first smashing the musical barriers with their radical brand of progressive rock.
Over the years Human Instinct has been a vehicle for some of New Zealand's top musicians producing a legacy of close to 30 singles and five albums across its various incarnations.

The 'Singles...best of...' compilation was the fourth release from the Human Instinct archives from Australia's Ascension Records. It included material from the Mercury, Deram and Pye years but not the Zodiac and Family labels

. The compilation had sold out and become a rarity within three years and in 2010 Stebbing Studios released a triple box set featuring the Zodiac years material with The Hustler, Snatmin Cuthin and the Peg Leg lost tapes CDs bundled together.

The Human Instinct had its origins with 1950s pop band the Four Fours, formed in Tauranga in 1958 by drummer Trevor Spitz. Lead guitarist Bill Ward joined in 1959 and former police cadet Dave Hartstone became rhythm guitarist in 1960. Frank Hay a friend of the band was given a crash course on playing the bass and the foursome, rapidly became one of the most sought after bands in the country.

Once the Four Fours got a taste of success with hit records and sell out crowds the lads set their eyes on becoming t the London scene, becoming the second only Kiwi band to do so, arriving a couple of months after Me & the Others which featured Peter Dawkins on drums (later a respect record producer) and Gary Thain on bass (later of the Keef Hartley Band and Uriah Heep).

Four four founder Trevor Spitz wasn't keen on the overseas trip so the band began auditioning for a replacement.

In mid-1966 Maurice Greer, then fronting his own band The Saints, was asked to try out. He had his first group at age 14-years and was billed as 'the teenage wonder drummer'. In 1964 he began experimenting with an impressive drum kit, converting it into a stand up unit, which he claimed was better for his vocals. But it wasn't only his drumming ability that impressed the Four Fours it was his talent for to harmonising and hitting those high notes, the trademark of chart topping bands of the time. He joined just in time to record their biggest hit Go Go / Don't Print My Memoirs.

"He has a special set of Slingerland drums which suit his style, and he stands up while playing, balancing on one foot, using the other to pound that specially built bass pedal. The leaping P J Proby they call him," said John Frederick in the Manawatu Evening Standard.

The Four Fours gave themselves 18 months to prepare for their challenge to the UK scene often working 35 hours a week on stage and recording.

In August 1966 they said farewell to New Zealand as support act for the Rolling Stones and The Searchers taking up residency on the Fairsky to pay their way to London. But the times were changing and the boys knew they needed a more catchy name. "We knew we needed to 'hep it up' a bit. We wrote down names, put them in a hat and pulled out Human Instinct," says Maurice Greer.

Work was hard to find, the British bands were hard and loud, new equipment was needed and a booking agent to get them gigs. After four months of hard luck the Human Instinct took to the stage at the Starlight Ballroom in Wembley along with hundreds of other hopeful bands playing to an audience of booking agents.

It was their solid rendition of a hit Beach Boys' song, complete with perfect harmonies and tight guitar work that opened the door. The bookings began to roll in with agents asking for 'the band that did Good Vibrations with the stand-up drummer'.

The hard yards at the working men's clubs and high school dances eventually paid off with a short residency at The Marquee Club supporting the Jeff Beck Band, then the Small Faces, Spencer Davis Group, the Moody Blues, Manfred Mann and Cat Stevens. The band also supported Roy Orbison and sat in for the Peddlers for two weeks. They also took on two short resident spots at Hugh Hefner's Playboy Club.

The Human Instinct were offered a deal with Mercury Records. The first single release Rich Man / Illusions in 1967 received good press but saw no chart action. A review in the new Musical Express described the song as: "A pounding up-tempo piece with ear catching lyrics and some weird sounds. Self penned and out of the ordinary."

It was quickly followed by Can't Stop Loving You / Want To Be Loved By You and a re-recording of the Four Fours Go Go in June 1967. The band then signed with Deram to record A Day in My Minds Mind / Pink Dawn, described 30-years later by English critic Jon Savage as "a blurring of the real and fantastic, aurally reproduced by detuned raga-style guitars and a few voices."

The Byrds song Renaissance Fair was backed by Death at the Seaside and recorded at Olympic Studios in December 1967. It later appeared on the early 90s compilation album The Great British Psychedelic Trip.

The pressures of touring were getting to the band. Dave Hartstone wanted to stay in London but the others decided to return home to a normal family life. Greer was offered the job drumming with the Jeff Beck Group but chose to return to his homeland in September 1968.

After a series of welcome back concerts Frank Hay and Bill Ward went their own way but Greer was determined to rebuild the band and head back for another shot at the British mainstream. In his home town of Palmerston North, he found just the player who could help spearhead the next wave.

He took an immediate shine to the playing of local guitarist Bill Tekahika, an old high school friend. Billy T.K quit his own unit The Sinners to join Human Instinct. Not o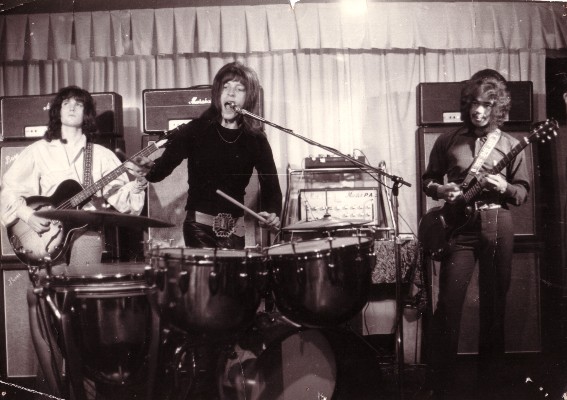 nly could he cope with the Hendrix-Zeppelin style, he was about to become a guitar legend in his own right.

The new unit soon teamed with bass player Peter Barton and headed to Auckland where they quickly set the nightclub scene alight with the new hard driving, experimental sound.

The return trip to London however didn't bring the success the band had hoped for. Things had changed, work wasn't so easy to come by and the band only remained three months.

The journey however as not wasted – they bought the latest equipment and became saturated in the pioneering sounds of fellow Kiwi guitarist Doug Jerebine who was also trying to crack the London scene.

Jerebine's playing and songwriting had a major impact on Maurice Greer. Jerebine, recording under the name Jesse Harper, and after producing little more than an album's worth of free-form rock anthems quit the rock scene for Eastern religion and eventually becoming a high ranking Krishna monk and scholar. His original material was only released in the late 1980s, long after Human Instinct had recorded Midnight Sun, Idea and five of his other songs.

Those two singles along with Black Sally, Tomorrow, Rainbow World, Highway and the band's irreverent version of The Kinks You Really Got Me were culled from the Human Instinct's consistently popular trilogy of albums recorded in quick succession on their return to New Zealand.

Bass player Peter Barton left in the middle of recording Burning Up Years in 1969. He appears on the tracks Maiden Voyage and You Really Got Me. Larry Waide was bought in to complete the album.

The second LP, Stoned Guitar was recorded in June 1970. According to an April 1971 issue of Groove, Stoned Guitar on Pye records had sold 4000 copies and I Think I'll Go Back Home was in the top New Zealand top 10.


Larry Waide left after Stoned Guitar as musical directions began to shift. In February 1971 former Underdogs bass player Neil Edwards joined and the more mature and structured Pins In It album was released in June that year.

After a three month Australian tour in mid 1971, Billy T.K. left the band and Greer returned home to build and operate nightclubs with his brother Frank. However, the Human Instinct was soon back on the scene playing a softer Little Feat-style of rock, as evidenced in the next two albums Snatmin Cuthin and The Hustler. For live work and those albums Greer again called on the best musicians around including Martin Hope (ex Foumyula), John Donaghue (ex Timberjack), keyboardists Graeme Collins and then Steve McDonald, and bass players Glenn Mickelsson (Zaine Griff), Peter Cuddihy and Chris Gunn among others.

The Human Instinct story will eventually be told in full but for the moment the history continues to unfold. Human Instinct continues to perform the occasional live and a 'new' album which has taken over a decade to see the light of day was finally released in early 2011. Midnight Sun recorded at Revolver Studios in Auckland features original band members and guest appearances several top players.
……



Human Instinct would like to thank Wellington record collector Euan Thompson for keeping a 'record' of the past. Information for these liner notes was drawn from interviews with Maurice Greer plus background from John Dix Stranded in Paradise and Roger Watkins Hostage to the Beat.